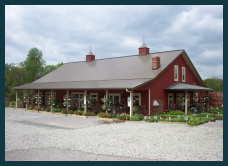 I wasn't aware that Randolph had a pick-your-own farm with apples, pumpkins and more. And, I definitely didn't know there were cute farm animals, such as ducks, pigs and adorable sheep.
If you're in Morris County,
Sun High Orchards
is a great place to go.
It's a smaller-sized farm (as compared to
Wightman's
in Morristown or the larger ones in Chester), which is easier to navigate with little ones.
Features:
General store: Homemade goodies likes pies, cookies and doughnuts, along with the requisite fruit, apple cider, and pumpkins/gourds. The store has really cute craft items and seasonal decor arranged like eye candy, so if you're there, leave a little time to peruse.
Hayrides: Available on the weekends.
Animals: Alpaca, mini donkey, ducks, pig, sheep. I'm probably forgetting something. It's a few pens, not the Turtleback Zoo.
Cost: Possibly free, if you just want to visit the animals. I went with some mom friends and the consensus was that it can be a very cheap outing! There are wagons for the kids to pull along the pumpkin area, as well as cut-outs and some hay bales to climb on and jump off.
Coupons: $.50 off a pie (like apple caramel walnut - yum!), valid through 10/31.
Where is it:
19 Canfield Avenue
, Randolph (just past County College of Morris)
Hours:
7 days a week, 9am-6:30pm